The Riviera, a Longtime Favorite of Santa Barbara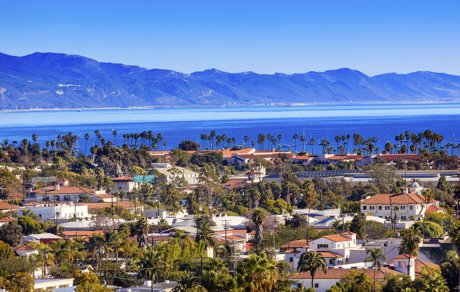 Named the Riviera because of its geographical resemblance to the Mediterranean coastal towns of France, upscale Riviera homes are surrounded by winding streets perfect for scenic Sunday drives. Riviera residents enjoy the most spectacular views of Santa Barbara including the ocean, harbor, Channel Islands and the Mesa Hills. No wonder property values here are sky high and inventory limited. As a very exclusive area of Santa Barbara, nestled between the oceanfront and gently rolling hills, Riviera real estate extends to the north side from Foothill Road to Sycamore Canyon Road, and to the south side from the Santa Barbara Mission to North Salinas Street for approximately two miles.
As one of the oldest neighborhoods in Santa Barbara, Riviera homes are as enchanting as their scenic backgrounds are breathtaking. Imagine enjoying a backyard barbeque with a luminous pink sunset lingering over the ocean as your backdrop. Not only is this neighborhood filled with gorgeous luxury homes, it is known as one of the most popular and wealthiest areas to call home. Hidden in the lower Riviera is the Santa Barbara Bowl, a historic outdoor amphitheater originally built in 1936. Completely renovated since 2014, the Bowl is the perfect place to spend a blissful night under the stars enjoying music right in your own backyard. Calling the Riviera home is just like owning your very own piece of paradise. There are few places as beautiful!